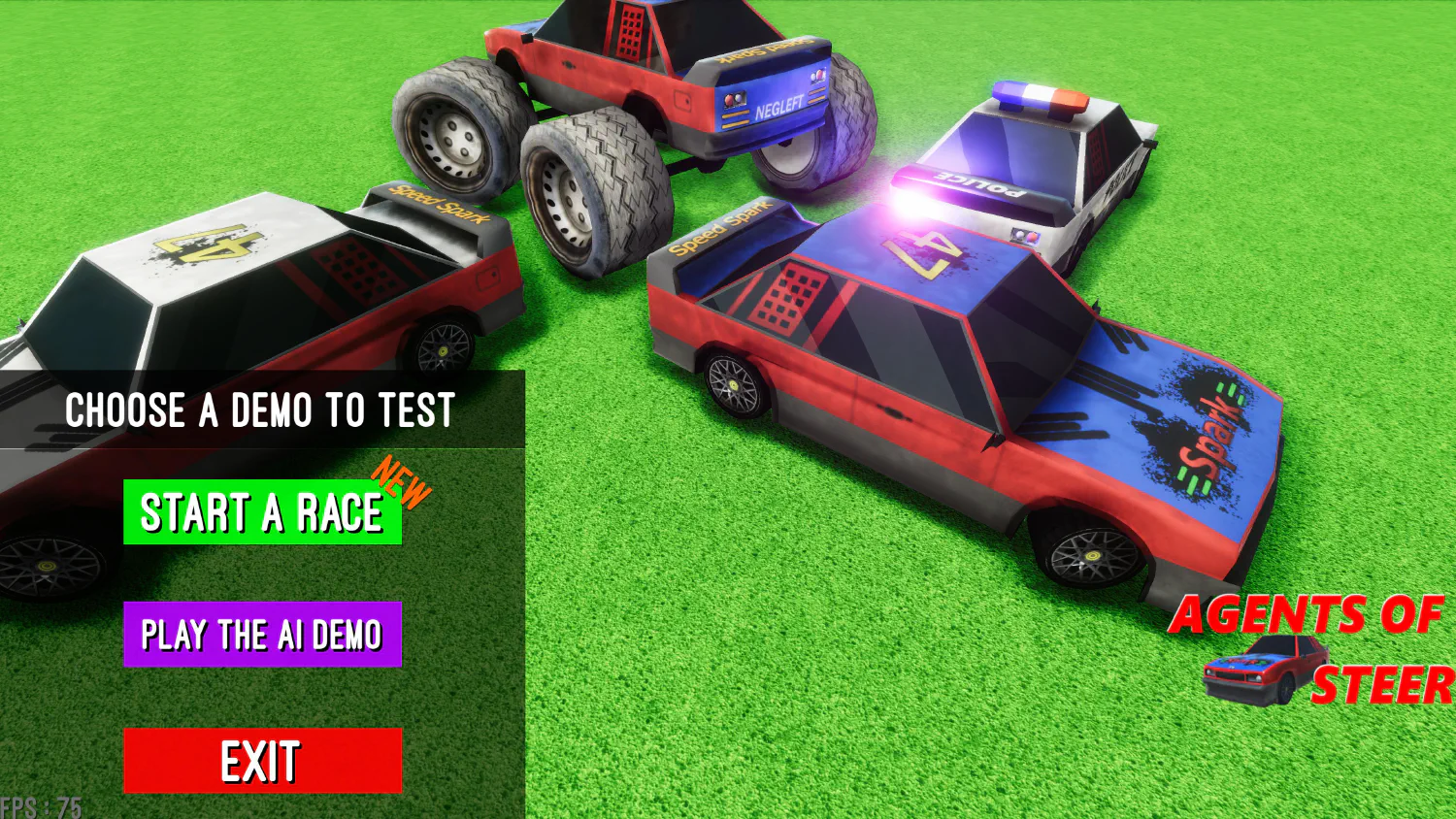 Agents of steer - Demo
Agents of Steer is a cutting-edge AI system designed to bring your race-based projects to life. This powerful system utilizes a combination of advanced steering behaviors, making it ideal for a wide range of applications. Whether you're creating a racing game, a simulation, or any project that involves vehicles, Agents of Steer has you covered.
Steering Behaviors
Agents of Steer incorporates a variety of steering behaviors, including:
Pursuit: Vehicles intelligently chase their targets.
Unaligned Collision Avoidance: Smartly avoiding collisions with other moving cars in their path.
Obstacle Avoidance: Navigating around obstacles seamlessly.
Path Following: Staying on the desired path with precision.
Separation: Maintaining safe distances from other vehicles.
Queuing: queue while racing.
And a touch of Special Logic to give your vehicles that extra edge.
These behaviors combine to provide a comprehensive solution for competitive and intelligent vehicle behavior.
Mobile Compatibility
Agents of Steer is designed to be versatile and accessible. It is fully compatible with mobile platforms, including Android and iOS. Your projects will perform seamlessly on a wide range of devices, ensuring a broad audience for your creations.
Introducing the New Police Car
Version 1.4 introduces an exciting addition - the New Police Car. This versatile vehicle can operate in two distinct modes:
Parked Mode: The Police Car is stationed and ready for action.
Patrolling Mode: When alerted, it will actively pursue and attempt to ram racing cars.
Take it for a spin in the demo to experience the thrilling gameplay it offers.
Easy Customization
Agents of Steer is designed with ease of use in mind. You can effortlessly customize the system to match your unique vision. Replace artwork and assets to make it truly yours, creating a game or simulation that reflects your style and creativity.
The New Race Manager
We've also introduced a brand-new Race Manager system. This feature empowers you to create circuit or sprint races with any number of AI participants and set the number of laps as per your requirements. It's never been easier to organize thrilling races in your project.
Demo
Controls: WASD to drive, space for handbrake, Hold tab to view your position in race.
Note: If you encounter any issues while loading the player, please ensure that none of your browser extensions are blocking it.
Mobile Demo
Try the mobile demo on Play Store
Get it here